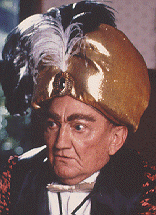 Mr. Barty was born in Pennslvania on October 25, 1924. His family moved to Hollywood when he was three, where he immediately started working in the motion picture industry.
"My father carried me in his arms in front of the old Goldwyn studoies," he recalls,"and told me to do a head-spin for the director of 'Wedded Blister.' The director thought it was cute and put it in the movie."
Billy Barty has been in show business most of his life. He travelled extensively in vaudeville with an act called "Billy Barry and Sisters." "My father managed the business side of things and my mother looked after our daily needs. My sisters always complained because the billing never mentioned their names. I had two sisters-5'4" and 5'5"- and I was only about 2'8" in those days."
By the time he was ten, Billy had appeared in many films, playing the role of Mickey Rooney's kid brother in the Mick Maguire comedies and appearing in "Gold Diggers of 1933," "Footlight Parade" and other great Busby Berkely movies including "Nothing Sacred" and the original Warner Bros. production of "A Midsummer Night's Dream," in which Micky Rooney played Puck and Billy played Mustard Seed.
He took time off from performing to attend a professional school in Hollywood, along with such celeberties as Mickey Rooney and Jane Withers. "It was an accredited school," says Barty. "I finished my last two years of high school there before moving on to Los Angeles City College and, subsequently, Los Angeles State, where I majored journalism. I intended becoming a sports writer and annoucner, but I became involved with some amateur shows, and all of a sudden I was back in show business."
He took a job in a local television series for NBC and, after doing some local television, found himself in New York doing a netwaork show. This was in 1950, and he's been going strong ever since.
In the past few years, after he had travelled for ten years with the late Spike Jones and his band, Billy Barty returned to movies with a role in John Schlesinger's "The Day of the Locust." He has since appeared in "W.C. Fields and Me" with Rod Steiger, "Foul Play" with Goldie Hawn, "Won Ton Ton, The Dog who Saved Hollywood," "Under the Rainbow" in which he played the villian, and "Willow" directed by Ron Howard.
Mr. Barty also appeared in England at the London Palladium with Donald O'Conner, singing, dancing, playing the drums and going comedy routines. In 1997, Mr. Barty teamed up with director Stanley Sheff once again for a special performance at the historic Orpheum Theater in downtown Los Angeles. Billy wowed the crowd with his vaudeville show before a sold out audience of over two thousand fans.
In 1957, Barty founded an organization called The Little People of America.