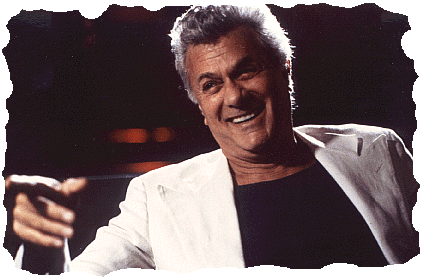 Occupation: Actor
Birth Name: Bernard Schwartz
Born: June 3, 1925, Bronx, NY
Education: CCNY; Dramatic Workshop of the New School for Social Research, New York

Star of 106 films above the title, Tony Curtis has shown his versatility as an actor in such movies as "Some Like it Hot", "The Boston Strangler", "Trapeze", "Spartacus", "the Great Race", "Sweet Smell of Success" and "The Defiant Ones", which earned him an Academy Award nomination for Best Actor.
Tony has devoted over 50 years to his profession and is the consummate professional on the set. Not only is Tony internationally revered and thought of as an Icon, he is also one of the most daring actors, accepting roles that many others won't, and constantly looking for roles that challenge him. Currently, Tony averages at least three features a year and numerous, well-picked guest roles on popular television series. His latest television roles have been on "Suddenly Susan" and "Lois and Clark". Both roles were critically acclaimed in TV Guide.
Referred to as the current day Valentino in Europe, Tony received a lifetime achievement award from the Italian Oscars in May of 1996. He was knighted in France in March 1995, with the Chevalier De L'Ordre Des Arts Et Des Lettres for his work in Films and his original art works. Tony has also been honored by the USA Film Festival and the Palm Springs International Film Festival.
Tony has worked with a variety of film directors including Billy Wilder, Blake Edwards, Stanley Kubrick, Elia Kazan, Vincente Minnelli and Nicolas Roeg. Tony has also starred in several carefully selected television movies and series including "The Mafia Princess", "Inmates a Love Story", and the Arnold Schwarzenegger-directed TNT comedy "Christmas in Connecticut". His series include "McCoy", "Vegas", "Hollywood Babylon", and the widely acclaimed British series "The Persuaders" with Roger Moore, which over 20 years later, still airs nightly in the United Kingdom and elsewhere in Europe.
Tony served in the Navy during World War II and, upon his release, used the GI educational program to study drama. He first gained attention in a Greenwich Village stage production of "Golden Boy", and was quickly offered a contract by Universal Pictures. His screen debut had him dancing with Yvonne de Carlo in "Criss Cross". His few seconds on screen were enough to generate thousands of fan letters to the handsome young man, Universal had the fastest rising star in Hollywood and one of the most enduring prolific actors of modern times.
Fifty years later, handsome, charming and fit, Tony has completed his autobiography. In addition to the autobiography, Tony has had many major one man exhibitions in the United States and his London debut exhibition sold out before it opened to the public. His bright acrylic canvases, which have been compared to Matisse, assemblages, collages and boxes are in the private collections of Billy Wilder, Arnold Schwarzenegger and Maria Shriver, Frank and Kathy Lee Gifford, Lew Wasserman, Frank Sinatra, Arsenio Hall, Walter Mathau, Burt Lancaster and Kirk Douglas. Tony's originals are also on display at the Butler Institute of American Art, the Naval Base at Pearl Harbor, The Toronto Museum, National Hungarian Museum, Harrods Department Store, Spago Restaurant, The Navy Memorial, The Mirage in Las Vegas, and the Caitlyn Gallery in St. Louis. Currently he is planning a showing of his work at Donald Trump's Mar-a-Lago in Palm Beach, Florida.